Ramona Tile and Grout Cleaning Professionals
The vast majority of homes contain tile and grout in at least one if not several locations. Generally, tile and grout is used in bathrooms and kitchens, and while these materials generally make it easier for floors, tubs and counter areas to deal with water and moisture, they can also become extremely dirty and grimy over time. What was once a shiny and new surface slowly and surely begins to look like a worn down, drab area that needs attention.
Fortunately, We Care Carpet Cleaning is a Ramona tile and grout cleaning service that has been earning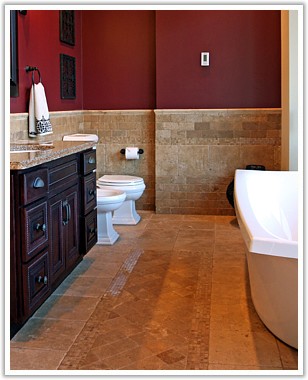 its sterling reputation in the area for years when it comes to the proper and thorough cleaning of these areas of a home. There is an enormous difference between attempting to clean these areas with store-bought cleaners and hiring professionals to handle it, and below you'll find a brief overview of how our team handles this problem for customers.
Pre-Treating Soiled and Stained Areas
The team of professionals at We Care Carpet Cleaning will usually take the first step towards restoring the look of tile and grout by pre-treating the area so that any obvious dirt and grime are removed and so that the next step can be taken safely and effectively. This pre-treatment is one of the benefits that you'll get from a Ramona tile and grout cleaning servicethat you can't buy in a store, and it can make all the difference in the result.
Scrubbing to Loosen Dirt and Stains
The next step that we take for our customers is to attack the stains, dirt, mold or whatever else may be harming the look of tile and grout by way of scrubbing those areas with our professional equipment. We may also apply acid to tough stains if doing so is safe and advisable. This step will separate the fibers and strands of the stain from the surface and allow our team to take the next step that restores the shine to the area.
High Pressure Rinse
After we have cleaned the area to our satisfaction, we apply a high pressure rinse to the area to make sure that any remaining strands or follicles of the stain are washed away permanently. This is a critical step to take before we move on to the final step that locks in our work and leaves your tile and grout protected.
Sealing
Finally, when the cleaning is complete, we will apply a sealant to the area that will lock in this clean look and keep your tile and grout much more protected than it was when we arrived. This will make cleaning those everyday stains that much easier.
If you are tired of looking at dirty, grungy tile and grout and you'd like to restore that new look, you need to seek the help of aRamona tile and grout cleaning service that knows how to achieve results. Contact We Care Carpet Cleaning today to obtain a price quote and any other information you desire.